October 2020 update of top 5 Chinese EV startups' insurance registrations
Shanghai (Gasgoo)- In October, consumers in China bought the Mandatory Liability Insurance for Traffic Accidents of Motor Vehicles (MLI) for roughly 124,600 homegrown new energy passenger vehicles (NEPVs), representing a robust year-on-year surge of 153.01%, according to China Insurance Regulatory Commission (CIRC).

For the first ten months, China's NEPV insurance registrations edged up 1.77% year on year to 725,200 units.
There were 16,756 vehicles from Chinese NEV startups registered last month, a year-on-year hike of 157.78%. With around 104,000 units registered, the vehicles made by startups contributed to 14.34% of China's overall NEPV sales for the Jan.-Oct. period.
In terms of Oct. insurance registrations, the top five startups were still NIO, Li Auto, Xpeng Motors, HOZON Auto and WM Motor. With 14,739 units registered in total, the five companies accounted for 88% of the insurance volume of overall startup-made vehicles.
Compared to Sept., the rankings of NIO, Li Auto and Xpeng Motors remained unchanged. HOZON Auto outperformed WM Motor, moving up to the fourth place.
NIO's EC6 coupe SUV posts MoM registration leap
The combined registrations of NIO vehicles amounted to 4,880 units in October, growing 2.1% from the previous month.
The month-on-month increase should be entirely credited to the hike in EC6 registrations. The company started delivering the electric coupe SUV in late September, and saw the insurance volume surge to 836 units last month.

Compared to Sept., both ES6 and ES8 posted decrease, while they were still honored the best-selling and the second best-selling all-electric SUV models in China by Oct. insurance volume.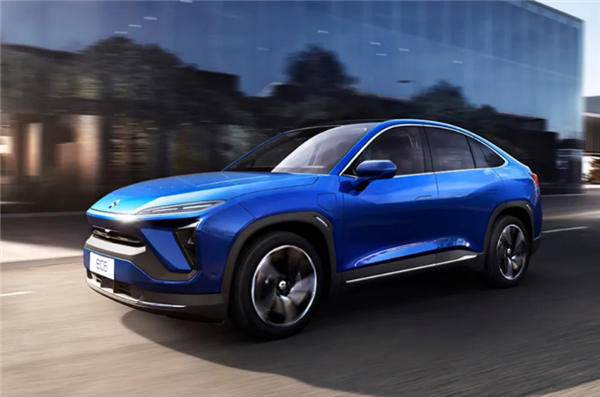 NIO EC6; photo credit: NIO

On November 6, NIO launched the 100kWh battery pack with battery upgrade plans. The 100kWh cell-to-pack battery pack has realized 37% higher energy density than the existing 70kWh battery. Powered by the 100kWh battery, the NEDC range of the NIO EC6 can increase to 615km.
Under the upgrades plan, if users opt to buy an ES8, ES6 or EC6 and subscribe for the 100kWh battery pack under the BaaS (Battery as a Service) model, they can purchase the vehicle without battery pack while paying a monthly subscription fee of 1,480 yuan ($225). Users of the 70kWh battery pack can choose to either purchase a 100kWh battery pack for permanent upgrades or pay a monthly subscription fee of 880 yuan ($134) for flexible upgrades.
Li ONE once again honored best-selling new energy SUV model in Oct.
With 3,438 vehicles registered, Li ONE was once again crowned the hottest-selling new energy SUV model in China by Oct. insurance registrations.

Notably, Li ONE was also the best-selling full-sized new energy SUV model for the first ten months. The CIRC's data show that the Jan.-Oct. insurance registrations of the Li ONE reached 22,160 units, 14,726 units more than that of the runner-up NIO ES8.
As of October, Li Auto has deployed 41 retail outlets covering 36 cities in China, six of which—Haikou, Xining, Weifang, Wenzhou, Taizhou and Nanzhou—opened their first Li Auto sales center last month.
Li ONE; photo credit: Li Auto

The startup plans to make its retail network step into such cities as Taiyuan, Yantai, Changchun, Baoding, Hohhot, Tangshan, Fuzhou and Jinhua by the end of this year.
Li Auto delivered 8,660 Li ONEs in the third quarter (Q3) of 2020, up from 6,604 units for the second quarter, according to the startup's Q3 financial results. The company expects its vehicle deliveries to be between 11,000 and 12,000 units for the fourth quarter, representing an increase of roughly 27% to 38.6% from the previous quarter.
Xpeng P7 ranked eighth among premium car models by Oct. registrations
The registrations of Xpeng Motors' vehicles slid 12.7% over a month earlier to 2,970 units, mainly due to the downturn in the Xpeng P7 volume. According to the CIRC, among mid-sized premium car models priced at and above 300,000 yuan ($45,515), the P7 was ranked eighth by Oct. insurance volume.

On October 20, the 10,000th P7 rolled off the production line at Xpeng's Zhaoqing plant. It took the startup fewer than 160 days to achieve the milestone, making Xpeng the first EV startup in China to make the achievement for a single motor in such a short time.

Xpeng P7; photo credit: Xpeng Motors

At its 2nd Tech Day in late Oct., Xpeng launched 18 firmware OTA updates, adding 82 new features to its vehicles. The voice assistant's average monthly utilization rate reached 99.74% and in-car navigation utilization rate achieved 92.54%, according to Xpeng's 2020 Smart Car Operations Report.
Xpeng's autonomous driving system XPILOT 3.0, planned for release in the first quarter of 2021, will provide Navigation Guided Pilot (NGP) for highways and memory auto parking for carparks. These new features address some of the major challenges for drivers in China.

HOZON Auto's two models gain MoM growth in Oct.

HOZON Auto's new vehicle registrations leapt to 2,077 units in Oct. from 1,669 units in Sept. as both the Nezha N01 and the Nezha U achieved growth. Notably, the volume of the Nezha N01 kept continuous month-over-month upward momentum for three consecutive months.
The startup saw its third production model, the Nezha V smalled-sized SUV, hit the market on Nov. 3. Targeting the entry-level BEV segment, the new model is priced from 59,900 yuan ($9,100) to 75,900 yuan ($11,530) after subsidies.

Nezha V; photo credit: Nezha

HOZON Auto said it received orders of 1,260 Nezha Vs on the first day when the new model became available for sale.
The company has initiated its Series C funding and attempts to have its shares trade on the Science and Technology Innovation Board (STAR Market) next year. As of now, HOZON Auto has completed four rounds for financing with over 6.25 billion yuan ($949.689 million) gathered in total.
WM Motor faces double-digit MoM drop in Oct. registrations
WM Motor saw its total registrations dip 19% month on month to 1,374 units. Both theEX5 and theEX6 faced decrease over the previous month, while the overall downturn should be more attributed to the slide in the EX5's volume.

Shanghai Securities Regulatory Bureau exposed in Oct. WM Motor was receiving pre-listing tutoring and planned to go public at the STAR Market in early 2021.

WM EX6 Plus; photo credit: WM Motor

According to the corporate data platform Tianyancha, WM Motor Technology Group Company Limited has acquired 15% stake in a Hunan-based software tech company, joining the growing number of automakers that attempt to get a foothold in software domain.
WM Motor has reportedly signed a tentative agreement with Uber to export the WM EX5 to more than 10 European countries, as an optional vehicle for Uber's drivers. It may be the next Chinese startup stepping into overseas market following NIO, Xpeng Motor and AIWAYS.
Gasgoo not only offers timely news and profound insight about China auto industry, but also help with business connection and expansion for suppliers and purchasers via multiple channels and methods. Buyer service:buyer-support@gasgoo.comSeller Service:seller-support@gasgoo.com
All Rights Reserved. Do not reproduce, copy and use the editorial content without permission. Contact us:
autonews@gasgoo.com